Kerala Plus One (+1) Admission 2017 How to Apply Online
|
www.hscap.kerala.gov.in – Kerala Plus One (+1) Admission 2017 How to Apply Online, Kerala HSCAP Plus One admission 2017-18, Plus One Online Application Step by Steps, Plus One Onlinea application Instructions, Kerala Plus One Online Registration Steps, HSCAP Registration, HSE Plus One Single Window Application, Plus One Application Form, Kerala Plus One Admission 2017 Prospectus
Kerala HSCAP Plus One admission 2017-18 application registration starts from May 8th, 2017 (8/5/2017). The application registration can be done by Online registration through www.hscap.kerala.gov.in. The last date to submit Kerala Plus One (+1) 2017 application form is June 6, 2017.
Plus One Trial Allotment Result 2017
HSCAP Plus One (+1) Admission 2017 Registration – www.hscap.kerala.gov.in
Kerala Higher Secondary Education Board conducting +2 courses in Govt. Higher secondary schools in Kerala. The first year admission for 2017-18 batches of Plus one courses / 11th class admission starts from May 8, 2017 (8/5/2017).
Kerala HSE Plus One admission 2017 will be completed through a series of process. The Plus One admission application registration and allotment process will be done by a single window system (Ekajalak Pravesanam 2017) through Centralized application process 2017 ( HSCAP 2017 ).
The candidates must have to register their application online through the hscap web site http://www.hscap.kerala.gov.in. and then they must submit the required documents/certificates and the print out of the online application to the Higher secondary school on or before the last date of application is 6/6/2017, 5:00 PM. Application free of Rs 25 must be paid to the school along with the application.
Kerala Plus One Admission 2017, HSCAP Allotment 2017, Plus One Trial Allotment, Plus One First Allotment, Plus One Admission Allotment Result 2017, Kerala Plus One Online Registration
How To Apply for Plus One Admission 2017
Kerala Plus One Application Registration – Online submission of Plus One Application
1. Enter the hscap online registration web site www.hscap.kerala.gov.in
2. Click on the link "APPLY ONLINE – SWS " in the left side of the web page
3. You will get the screen "SWS ONLINE APPLICATION ENTRY (2017-2018) "
4. Select the district where you like to apply (Application District ) and submit
5. You will get a candidate login page where you could enter basic information of application. enter the details and submit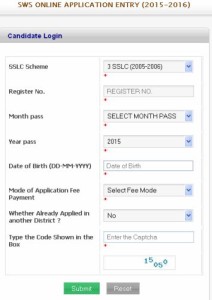 6. Next page is the "Plus one online application form " where you could enter the application details and the options for the courses. Enter the required details as per the prospectus and submit online application.
7. Take a printout of the online application and sign it by candidate and guardian and then submit it to the higher secondary school in the district where you apply for plus one admission. Application fee Rs 25 should be paid in the school at the time of application submission
If the candidate apply to the school out side of the district, they must pay the application fee in the form of DD. They must send the print out of the application form and documents to the specified school principal.
If the candidate want to apply for a second district or multiple districts, they must login to the hscap web site and apply for the second district separately.
Important links :
Plus One Admission 2017 HSCAP Application Form – HSCAP Online Registration
How to apply online for Plus One (+1) admission 2017 PDF Instructions
HSCAP +1 admission Online Application Status
Kerala Plus One admission 2017 Prospectus download
For more details visit : www.hscap.kerala.gov.in
Kerala Plus One (+1) Admission 2017 How to Apply Online, Plus One Online Application Step by Steps, Plus One Online application Instructions, Kerala Plus One Online Registration Steps, HSCAP Registration, HSE Plus One Single Window Application, Plus One Application Form, Kerala Plus One Admission 2017 Prospectus
Kerala Plus One (+1) Admission 2017 How to Apply Online