VHSE Plus One Admission 2016 – VHSCAP Online Registration
|
VHSE Plus One (+1) Admission 2016, VHSCAP Plus One Admission 2016 Online Registration, Kerala VHSE +1 Admission Online Application, VHSCAP +1 Registration, VHSCAP Plus One 2016 Allotment, Kerala VHSE Application VHSCAP Online Registration, Vocational Higher Secondary First Year Admission 2016
Kerala VHSE Plus One (+1) Admission 2016 VHSCAP Online application registration has started. VHSE first year admission / VHSE Plus one admission process will be passed through a Single window System VHSCAP 2016. The VHSE Plus one application submission should be done through online registration. The candidates can submit VHSE Plus One Application through the official web site www.vhscap.kerala.gov.in . The Online Application registration started from May 11, 2016.
Kerala VHSE Plus One (+1) Online Application Registration 2016
VHSE Plus one Admission 2016 will be done through a centralized allotment process VHSCAP 2016. The candidates should have to submit online application on www.vhscap.kerala.gov.in. The Application form and prospectus for admission to Kerala VHSE Courses are available at all VHSE Schools in Kerala and can be downloaded from www.vhscap.kerala.gov.in .
Kerala VHSE Admission
Kerala VHSE course is a two year course that is equivalent to Plus Two level education. Kerala VHSE Courses are conducting in Vocational higher secondary schools across Kerala. VHSE 206 courses are categorized in Engineering and technology, Agriculture , Animal Husbandry, Fisheries, Para Medical, Physical Education, Home Science, humanities, Business and Commerce.
Qualification for VHSE Plus One Admission 2016
The candidates who have passed SSLC or equivalent examination can apply for VHSE Plus One 2016 in Kerala. Age limit for VHSE Plus One admission is 20 years.
How to Apply For VHSE +1 Admission – VHSCAP Registration
1. Enter the site www.vhscap.kerala.gov.in
2. Click on the link "Apply Online"
3. Enter the required information for application registration and submit
4. Take a printout of the submitted online application form
5. The candidate submit the print out application form with the signature of the candidate and guardian along with the self attested copies of supporting documents and application fee to the principal of a related VHSE School on or before the last date of submission
VHSE Trial Allotment Result 2016
The VHSE plus one admission will be processed through VHSCAP 2016. The VHSE board will be publishing a VHSE trial allotment 2016. This allotment is a list of candidates who are supposed to be eligible for admission for the VHSE Plus One Courses in Kerala for 2016. The VHSE Plus One Trial Allotment Result 2016 will not assure any seat to the candidates but it will help the students to get an idea about the chances of getting allotment in the VHSE First Allotment Result 2016.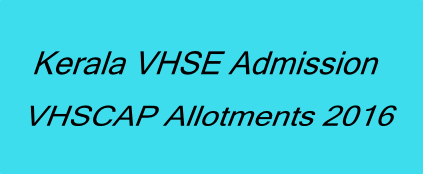 VHSE First (1st) Allotment Result 2016
VHSE First Allotment Result 2016 is the list of candidates who got an allotment for Kerala VHSE Plus One admission 2016. The allotted candidates can download the VHSE Allotment memo from the vhscap web site and report to the vhse schools along with the required free and certificates.
VHSE Second/Third Allotment Results 2016
VHSCAP will be publishing VHSE Second Allotment Results 2016 and VHSE Third (3rd) Allotment Results 2016 to fill the remaining vacancies after the VHSCAP First Allotment process.
for more details on vhse allotment, visit: www.vhscap.kerala.gov.in
Other Titles:
Kerala VHSCAP Plus One Admission 2016, Kerala VHSE Admission 2016, VHSE Single window system application 2016, VHSE Ekajalakam VHSCAP 2016, VHSE Allotment 2016, VHSCAP 2016 Allotment, VHSE Online Application, VHSE Plus One Admission 2016 Online Application, VHSE Application Form 2016, VHSCAP Plus One Online Registration, Kerala VHSE Plus One Allotment Result 2016, VHSE Trial/First/Second/Third Allotment Result 2016
VHSE Plus One Admission 2016 – VHSCAP Online Registration